The Hamilton Street Heroes took the preseason opener on the road in Wilkes-Barre by a 4-1 tally.  Here's Four Things:
The Phantoms opened their three-game pre-season slate with a quality 4-1 win at the Mohegan in Wilkes-Barre.  Alex Lyon got the start in net and and played the entire game.  It was a good tune-up for him as he will head to Europe with the Flyers as their third, non-roster, goalie–allowed for the trip.  Kirill Ustimenko backed him up.  Lyon stopped 16 of 17 shots made by the Penguins anemic attack. Greg Carey collected the #1 star of the game with an empty-net goal and two assists.
2. It Wasn't the Full Roster
Contrary to what some of the Wilkes-Barre media were reporting, it wasn't the full compliment of Phantoms players who will take the ice for the opener, at home, on October 5.  Names like Nic Aube-Kubel (who cleared waivers today), Cal O'Reilly, Mark Friedman, German Rubtsov, Misha Vorobyev, Nate Prosser and TJ Brennan were not in the line-up.  That's not to say the Penguins had their best lines out there, either, of course.  It was just a weird accusation to throw at the visiting team.  Remember last season when we seemed to take down Charlotte pretty easily in the pre-season?  Yeah, that team turned out to be a juggernaut.  So as with all sports, take pre-season results with a huge grain of salt.  Same with these lines, as the Phantoms skated with something like this tonight (I wasn't there; nor did I watch or listen to the game.  This is a mere recounting to help set up for the season):
10 Carey – 51 Criscuolo – 16 Sushko
8 Strome – 21 Fitzgerald – 38 Kaše
19 Ratcliffe – 11 Swavely – 19 Laberge
41 Yates – 26 Supinski – 22 Master
5 Wotherspoon – 44 Willcox
36 Knodel – 42 Michel
37 Beaudry – 40 Drake
34 Alex Lyon
3. Can We Just Do Away With The Three Stars?
Seriously.  It was a 4-1 loss for the home team, but they felt it necessary to grab two of the three stars of the game.  It's a mockery, and I know we've talked about it before.  Just do away with it in that case.  If my team loses 4-1 at home?  I don't want any stars, except perhaps if the goalie stood on his head then just him.  Stars are for winners.
4.  Time For Some Hockey in Allentown
Phantoms come home now for a couple days of practice in advance of their two home pre-season games.  Sunday afternoon, with both the Eagles and the Steelers off, the Phantoms clash with the Penguins again at 3:05PM.  Come downtown early and catch some NFL action on screens about town.  Good seats still remain for the game; save on fees by purchasing them at the box office.  They are cheaper than regular season (if you're not a season ticket holder and have already paid for them with your package.)
The Hamilton Street Heroes close our their pre-season with a rare Monday Night Hockey tilt versus the hated Bears at 7:05PM.  Once again, good seats still remain, and it's worth checking out, even at the last minute.
The opener is at home, and that will come next Saturday, October 5, at 7:05PM (event time) versus Providence.  For this contest, tickets are a bit tighter and you may want to purchase in advance, unless you want to wait for standing room to open up.
Bonus:  Black Jerseys For Preseason
The Phantoms sported some black sweaters tonight in Wilkes-Barre.  They were rather plain (see above), as we've expected from pre-season shirts in the past.  The combination with the black pants and rather plain socks was….not too bad.  We'll get a look at it ourselves coming up here–and it might be somewhat of a preview of the "black-out" Wednesday they have in store for us this season.  Stay tuned.
See you at the arena,
@Kram207
PS:  The "things" after games is a familiar mechanism, no?   I know it's not original, but at least I'm not doing a "report card."  Some of these got pretty good traction last season, so I'll try to keep them up as a mini-adjunct to "Hockey Night." 
Press Release:
Phantoms Win Preseason Opener at Wilkes-Barre
Three-Point Night for Greg Carey in 4-1 Victory
September 25, 2019
Wilkes-Barre, Pa. – Greg Carey racked up a three-point night with one goal and two assists to lead the Lehigh Valley Phantoms to a 4-1 win at the rival Wilkes-Barre/Scranton Penguins on Wednesday in the first preseason game for both squads.
Reading native Steven Swavely had the first goal for the Phantoms while Pascal Laberge and Matt Strome contributed power-play markers in the second period. Defenseman Eric Knodel recorded a pair of power-play assists.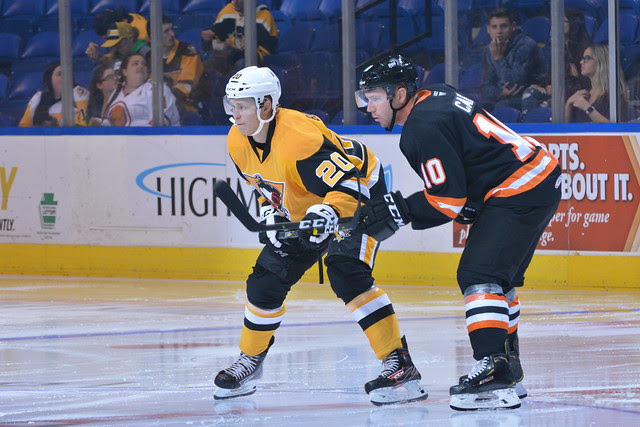 Alex Lyon turned aside 16 of 17 Penguins' shots in his 60 minutes of work.
Swavely's backhand flick in the slot from Isaac Ratcliffe in the corner after some hard forecheck work by Pascal Laberge gave the Phantoms a 1-0 lead in the first period.
Laberge was wide open on the back-door for the tap-in of a Greg Carey rebound in the opening minute of the second period for a 5-on-3 goal. And Strome scored 5-on-4 off a Carey carom as well just past the midway point of the game for a 3-0 lead.
Jordy Bellerive lit the lamp for the Penguins with 2:01 left in the second with a 5-on-3 tally.
Greg Carey completed the scoring with a mid-ice backhander that found the empty-net with 3:07 remaining.
The Phantoms out shot Wilkes-Barre/Scranton 21-17 and held the Penguins to just three shots in the first and third periods. Lehigh Valley was 2-for-6 on the power play while Wilkes-Barre/Scranton was 1-for-4.
The Lehigh Valley Phantoms have a pair of preseason tilts at PPL Center on Sunday at 3:05 p.m. and Monday at 7:05 p.m. hosting the Wilkes-Barre/Scranton Penguins and Hershey Bears on consecutive days. Opening Night is Saturday, October 5 against the Providence Bruins. Tickets are available at 610-224-4625.
Lehigh Valley Phantoms 4 at Wilkes-Barre/Scranton Penguins 1 – Status: Final
Wednesday, September 25, 2019 – Mohegan Sun Arena at Casey PlazaLehigh Valley 1 2 1 – 4
Wilkes-Barre/Scranton 0 1 0 – 1
1st Period-1, Lehigh Valley, Swavely 1 (Ratcliffe), 14:24. Penalties-served by Hirano Wbs (bench minor – too many men), 9:41; Titcomb Wbs (cross-checking), 17:00; Erkamps Wbs (cross-checking), 19:24.
2nd Period-2, Lehigh Valley, Laberge 1 (Carey, Knodel), 0:57 (PP). 3, Lehigh Valley, Strome 1 (Carey, Knodel), 10:30 (PP). 4, Wilkes-Barre/Scranton, Bellerive 1 (Lucchini, Hawkins), 17:59 (PP). Penalties-Kim Wbs (delay of game), 0:41; Bjorkqvist Wbs (high-sticking), 10:01; Drake Lv (hooking), 11:21; Michel Lv (delay of game), 16:04; Kase Lv (tripping), 17:00.
3rd Period-5, Lehigh Valley, Carey 1 (Sushko), 16:53 (EN). Penalties-Hawkins Wbs (slashing), 6:10; Swavely Lv (slashing), 9:37.
Shots on Goal-Lehigh Valley 8-7-6-21. Wilkes-Barre/Scranton 3-11-3-17.
Power Play Opportunities-Lehigh Valley 2 / 6; Wilkes-Barre/Scranton 1 / 4.
Goalies-Lehigh Valley, Lyon 0-0-0 (17 shots-16 saves). Wilkes-Barre/Scranton, D'Orio 0-0-0 (20 shots-17 saves).
A-
Referees-Rob Hennessey (87), Mike Dietrich (15).
Linesmen-Tyler Loftus (11), J.P. Waleski (14).
---
---
Categories: Kram's Korner - From the Club Level, Phantoms Hockey